Become a Project Provider
Enlist projects with Fluid and let us recommend the most qualified candidates for your requirements.
Project Seekers
Let us evaluate your skillsets and qualify you in our project seeker program. We will drive requirements to your doorstep which we believe you can do efficiently.
Starting the New Year with a Bang!

2009 has been good to Fluid Marketing as it marked our entrance in the industry giving you an innovative way of using marketing, advertising and public relations to make your brands top-of-mind.

We became the bridge and connected your company to high-caliber talents (marketing managers, market researchers, project coordinators, copywriters, art directors, etc.). We opened up a new opportunity for our Clients to maximize their budget through the use of our talent pools resulting to effective conceptualization and implementation of plans. They've been happy with the return of investments and we are proud to be a part of it.

And as we begin our first step to another year of successful partnerships we would like to invite your company to join and us and experience the difference. We are coming up with the new marketing strategies that will help boost your sales and promos for this year like "SMS brigade and email blast"; discount booklet/magazine backed up with website linked to our site; lower rates and light payment schemes on printing jobs; wide coverage for backyard research surveys and are adding up more creative people to join our roster of talents.

We would like to be your partner this year and be able to provide more projects to our talents. We hope you could give us a chance and let you experience the difference we can make to your company.

Can we do business with you soon?
What Makes Outsourced Marketing Click?

Outsourced marketing is catching on across various enterprises. Despite the incertitude of many corporate executives about outsourcing during its inception, it is rather apparent now the time-honoured marketing and advertising customs are swiftly chipping away towards outsourcing.

Why are marketing activities being outsourced?

Sustaining competitive advantage and profit growth in today's economic environment, where businesses struggle with economic volatility and the pervasiveness of free-trade, manufacturers and retailers cannot afford to second-guess their core competencies, which are mainly product development, creation of cost and differentiation advantages, and overall operations. Creating in-house departments such as marketing and advertising will be most likely impractical as they take up more overhead cost. And let's face it, advertising folks are rather happier when working with more than one account. There are companies, however, that do not necessarily hire staff to specifically tend to their marketing activities; they just overwork their employees who don't possess the expertise needed to satisfy the rigorous demands of planning and carrying out marketing strategies.

Because of these reasons, more and more companies are now outsourcing their consumer communication requirements to firms that provide them with talent pools and service providers who have proven track records in the field of marketing and advertising. By outsourcing, companies are now able to cut their overheads and focus on their core competencies.

FLUID: Your Outsourced Marketing Partner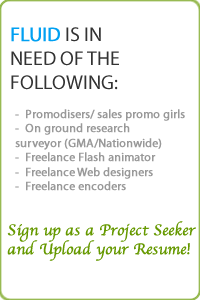 FLUID is a young and vibrant outsourcing firm that is continuously forming solid partnerships with various retail companies. We believe companies should take advantage of business approaches that enable them to respond effectively to the challenges before them. As businesses deliver resources and employment to the public, FLUID endeavours to loosen the tight reins that have been crippling investors.

FLUID is your direct access to a pool of marketing and advertising professionals who offer their services on a per project basis. That means clients can dispense with exorbitant retainers or agency fees while their projects are being worked on by the best of the best in the industry. From concept providers down to media suppliers, FLUID is your one-stop shop that offers competitive package costs for all your marketing and advertising requirements.

For more information about our services, please click .
Project Seekers
Project Providers

Maximize your profits without compromising your market presence. Sustain the competitive advantage of your business through this tough economic environment. Be responsive to the needs of today's consumer.
Let your business flow smoothly through the challenges. Let FLUID serve you.